Corporate Airport Cars

Corporate Airport Cars Melbourne
Are you looking forward to arrange a luxurious ride for your employees and corporate guests? Now get them transported with the best corporate airport cars hire services in Melbourne. Euro Taxi can arrange the finest traveling experiences for all types of corporate event and business meetings.
With our experience chauffeured cars drivers navigating through the Melbourne traffic is a piece of cake. Being conversant with the city and its streets to and from airport we can save your time and help your guests reach on time, every time. You cannot be sure for the traffic in the city. Having us by your side you can rest assure to be safe and punctual. Our drivers knows all the alternative routes to avoid any traffic.
Let us make your corporate rides to airport comfortable. Book us now.
Corporate Airport Car Hire Melbourne: Luxury At Ease
When it comes to traveling in Melbourne there is no better way than using the Corporate Airport Cars Melbourne. This mode of transport is specifically made to solve all sorts of corporate travel issues. Whether you need it for the business groups or people who need to attend a business meeting along, Euro Taxi serves you with most reliable solutions. We are best known for having the most experienced, knowledgeable and skilled chauffeurs.
With Euro Taxi you can expect quick transfers that too in budget. Our corporate drivers can help you with all you interested intercity transport in moving from one city to another. We can make every journey comfortable, interesting, and relaxing.
Want to travel from Melbourne to other adjacent cities for any corporate needs? Make your bookings online.
Why you need to hire Euro Taxi?
If your business clients are visiting Australia and your corporate car hire service provider fails to deliver perfection, it reflects on you. It is all about the warm welcome and first impression. You can choose a reputed chauffeur company like ours to provide you the utmost quality and perfection.
We understand how frustrating it can be for you and your business image when you are not able to provide your clientele the comfort they deserve. Leave it to Euro Taxi. We make sure that they enjoy a premium drive to and from airport or hotel with the best Corporate Airport Cars Melbourne.
Traveling in Melbourne need not be a trouble game anymore. We can make every journey easier and faster with cars which are luxurious and the drivers who are experienced. You can now fill up our online booking form which would not take more than a minute.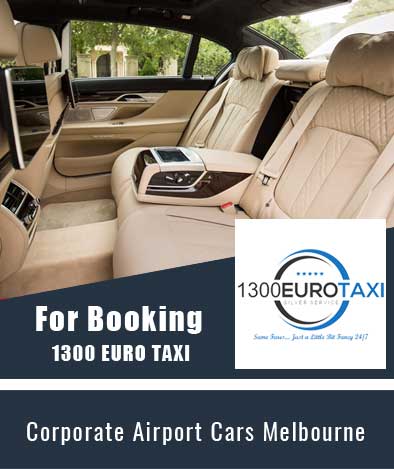 Enquiry Now