Luxury Hotel Transfers

Luxury Hotel Transfers Melbourne
The search ends here if you are looking for experienced luxury hotel transfers services in Melbourne. Euro Taxi brings for the most exclusive and reliable cab services. So look no further and make your bookings right away.
Now you have access to the largest fleet of luxury cars in the entire region. We offer exclusive limousine hire in Melbourne. With our well trained chauffeurs we make it possible to make your high end leisure hotel transfers memorable.
Whether you need it for your business or travelling from hotel to airport for personal needs, we provide you the very finest car hire services. To serve you with the best quality services we believe in building long term trust with our valued customers. For this we put constant efforts to increase our fleet size. Now we are readily accepting online bookings. You can just book a luxury car for hotel transfer at the comfort of your home. All you need to do is relax and enjoy the ride with us.
Experience the ultimate luxury on wheels for your hotel transfers.
Euro Taxi Offers Luxury Riding Solutions For Hotel Transfers
We take it as a pride in having the best luxury car range in Australia. Euro Taxi consistently keeps an eye in the market and promise to bring the best limo hire in Melbourne. With our simple and easy to use online booking engine we tend to make booking of your favorite car trouble free. Besides we give you many reasons to choose us.
Professional Chauffeurs: We hire only fully licensed and experienced drivers who are punctual and courteous at all times. When riding with Euro Taxi you can expect chauffeurs to maintain high standards of hygiene and safe driving.
Best Service: We work with an aim to attract and retain customers in the long run. For this we cater the finest in class ground transportation solutions.
Largest Fleet: Not only we have the widest range of luxury cars but also all of these are fully licensed, late model cars. These will be spick and span from inside out at all times.
When you want to locate the best limo rental service in Melbourne, you can trust Euro Taxi. Why not leverage the internet technology and search online? You can easily compare the rental prices and services offered. Or just request for a quote online.
We are ready to walk an extra mile to get you the best luxury hotel transfers in Melbourne and strive to achieve 100% customer satisfaction.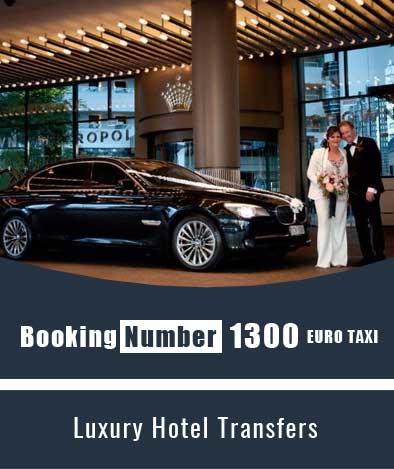 Enquiry Now